CommonsCloud is an interdisciplinary and intercooperative project, driven by femProcomuns cooperative, which integrates a diverse and fluid group of people who work or have worked with different intensities and regularities, but with crucial contributions.
There are many people who have contributed to making this project possible and we would like to thank them for their vital contributions!  
The CommonsCloud Council
The group of cooperatives that make up the CommonsCloud Council are:

Committed organisations: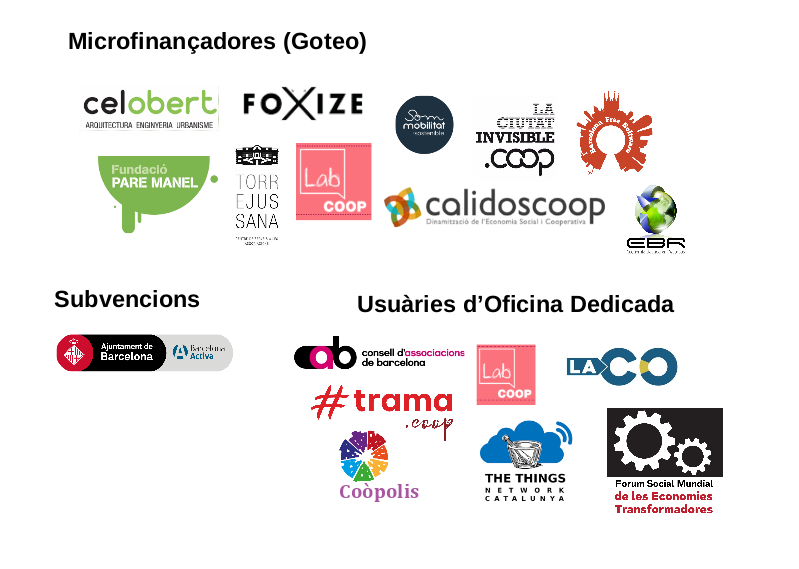 Acknowledgments
People and developer organisations of

NextCloud, Phabricator, Discourse, LDAP, Free Software Movement, EFESSC Movement (

Catalan acronym for

Feminist, Ecologist, Social, Solidarity and Common

s

Economies).

 

4fiti, Albert Garcia Pujadas, Albert Homs, Aleix, Aleix Pol, Alexandre Durrande, Angel Matilla, Angeles Sevilla Rivas, Antoni Garriga, Antonio, Auxi Piñero Martos, Bernat Romagosa, Blanca Galofre, Blanca Garcés, Brian Russell, Carlos Cámara, Carlos Ramiro, Casey Lynch, Coloma, Daniel Melendro García, David Esteve Lopez, David Maruny, David Picó, David Gómez Fontanills, Emmanuel Francès, Enrique Martinez, Ero Lugilde Iglesias, Enric Senabre, Ferran Armengol, Ferran Reyes, Francesc Bassas i Bullich, Franchi, Gary Alexander, Guillem FJ, Imma Valls,

Isaac Plana Schilt, José Luis, Jaume Ferrer, Javier Ibáñez Martínez, Joan Subirats, Joaquin Garcia Martinez, Jordi Isidro Llobet, Jordi Ustrell, Jordis, Jorge Toledo, José Andrés Soberbio, José Fernando, Josef, Josep Oliveras Escura, Josep Sanchez, Josep vives, Judit Quintana Lliró, Julian Moyano Reiz, Laia botey, Lamedina Cooperativa Andaluza, Lendi: Javi Velasco, LordBenit, Luz, Marcus Packard, Marcus Packard, Margarita Padilla, María Ripoll Cera, Mario García Fernández, Mariona Gili, Marta Morató Contreras, Matthias Brugger, Mercè Aranda, Miguel Sevilla-Callejo, Miquel, Mireia Pui, Mònica Garriga,

Natàlia, Natxo Varona, Nuria Valero, Olivier, Paco Puertes, Per Eystein Gleinsvik, Petter Joelson, Raúl Glez, Ricard Jornet Ginestà, Ricard Espelt, Roger Pibernat, Ruben Suriñach Padilla, Salomé Soria, Sergio Alonso, Sergio Casanueva López, Silvia Candida, Sisco Garcia, Thais Lloret Veciana, Vicenç Ruiz, Víctor Giménez, Wouter Tebbens, Xab / Xabi, Xavi Capdevila, Asociació (des)vestint aliments, Calidoscoop, SCCL, Celobert, CoCreable, Consell d'Associacions de Barcelona, creaRSA – Responsabilidad Social Audiovisual, Free Knowledge Catalunya, Free Knowledge Institute, Fundacio Pare Manel, KDE España / BCNFS, LA CIUTAT INVISIBLE SCCL, LabCoop SCCL, OuiShare Barcelona.